After 5+ months of writing and 2 months of waiting I'm happy to announce that the 3rd Edition of SEO Visual Blueprint, also referred to by the longer title, "Search Engine Optimization: Your visual blueprint for effective Internet marketing" is released in North America and select markets in Europe.
Pick up a copy at your local bookstore or order it online HERE through Amazon for under $20.
For those of you that have followed the book I put out the 1st edition back in 2008 and followed it up in 2010 with the 2nd edition – combined the two editions have sold over 50,000 copied and the book consistently ranked as the top selling SEO book in print since 2008.
The 3rd edition is packed with new content, including a dedicated chapter on "Local Search Engine Optimization," new SEO tools, new approaches to social media optimization, and much more.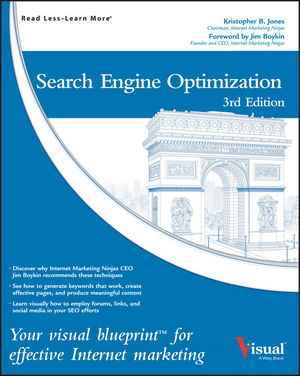 In addition, this edition was reviewed by a lot more people, including the head of global SEO for Airbnb, the head of SEO at Disney Interactive, and many more.
Here are a few select testimonials from folks who got to read an advanced version of the 3rd edition before it hit the presses.
"With 'Search Engine Optimization: Your Visual Blueprint for Effective Internet Marketing 3rd Edition,' Jones has expanded and updated the industry's best visual SEO guide with many new sound and effective strategies, offering a well-researched and insightful exploration of the latest Internet marketing principles and techniques in a practical and easy to utilize book. Turning to any single page will give you new ideas, and taken as a whole this new edition serves to push the boundaries of the art and science of digital marketing. A definite must-read that ought to be required reading for anyone serious about online marketing."
Brett Tabke, founder and CEO of Pubcon, the premier optimization and new media conferences
"If you ask yourself where to start to grow your business with Search Engine Optimization, or if you want to stay up to date to the latest changes, start by picking up this book. Kris Jones has laid out a clear plan for you to start executing for a better search visibility. This book will help you to determine what to focus on, what tools to use, and how to best maximize your return on investing, time, and resources."
Dennis Goedegebuure, Head of Global SEO, Airbnb
"Search Marketing has evolved to become one of the more daunting and complicated challenges for businesses to crack. Yet, succeeding at it remains critical for success. You know you need to rank well, but how are you going to get there? In Kris Jones' book, he walks you through everything you need to know, in just enough detail. Following his blueprint for optimization, you'll find yourself much better poised to rank at the top of the search engine results pages, while understanding the mechanics that drive that, and you will be better engaged with more customers than ever before. Kris knows SEO like the back of his hand, and it shows. This book should be a constant companion for novices and experts alike.
William Sears, Senior Manager, Search Marketing, Disney Interactive
"A must read for every search marketer from beginner to expert. Kris lays out everything you need to know in easy to understand steps with detailed visual examples of each process taking the guesswork out of the equation. The visual aspects alone set it apart and makes it a must read for any business engaged in online marketing. Kris is on the cutting edge of our industry and as an entrepreneur, leader, and mentor his book is the best of the best!"
Aaron Chronister, Director of Audience Development, CBS Interactive and best-selling author of "BBQ Makes Everything Better"
BUY SEO Visual Blueprint 3RD EDITION HERE!
And it's always nice to get positive reviews. Here's one that I received on LinkedIn today (4/8/14) – "Your book is amazing. It has increased traffic and revenue!" http://shop.usaimagingsupplies.com/